"How long shall I put up with you? How long will you keep putting Me off?" These are the words St. Maria Faustina of the Most Blessed Sacrament heard by Jesus years before she was given the title of Saint by the Catholic Church.
In 1924, at the age of 19, the young woman, born Helen Kowalska in Glogowiec, Poland, was at a dance trying to put off her desire to be a nun when she had a vision. One of ten children, her parents, poor and though very religious, did not want her to enter religious life. But for Helen, to serve God in this way had been her pressing desire since the tender age of seven.
Of that vision St. Faustina writes, "…I suddenly saw Jesus at my side, Jesus racked with pain…all covered with wounds…who spoke these words to me, 'How long shall I put up with you and how long will you keep putting Me off?' At that moment the charming music stopped, and the company I was with vanished from my sight; there remained Jesus and I…I slipped out unnoticed…and made my way to the Cathedral of Saint Stanislaus Kostka…I fell prostrate before the Blessed Sacrament and begged the Lord to…give me to understand what to do next. Then I heard at once, 'Go to Warsaw; you will enter a convent there.'" (The Diary of St Faustina 9)
Her journey to Warsaw was quick and hurried. When she arrived she knew no one and was overcome with fear. She asked Mary for guidance. Immediately she heard words within her telling her to go to a nearby village where she would find safe lodging. She did so and found everything was just as Mary told me. She was then instructed to go to a certain priest at a church in Ochota and to tell him everything. He, though surprised, was led to tell her to have strong confidence in God to provide for her future.
That 'future' he spoke of still resounds around the world today. Through many visions, dreams and continued encounters with the Lord and Mary, St Faustina has left a legacy, who for many has transformed their lives and continues to reach people with the message of God's Divine Mercy. She only had a total of three years of schooling, and could barely spell, yet her diary is known far and wide. It is also said that her theological understanding could only have come from God, Himself.
But God has chosen the foolish things of the world to put to shame the wise, and God has chosen the weak things of the world to put to shame the things which are mighty. 1 Corinthians 1:27
One such person whose life has been deeply affected by St. Faustina's message is Katalin Filtrani of Palm Beach Gardens, Florida. Just two and half years ago, Katalin, born in a small village in Hungary, was living a lukewarm life of faith. She admits that worldly pleasures had her heart. "I tried to be filled by these vain things of life, but I didn't know there was much more."
Katalin, raised Catholic, didn't attend church for fifteen years. She started to attend Mass again and was drawn closer and closer to God. Katalin said, "One day during my prayers at home I felt an intense force of love enter me. From that moment on, my niece, age 26, who was dying in a hospital bed, started to get better."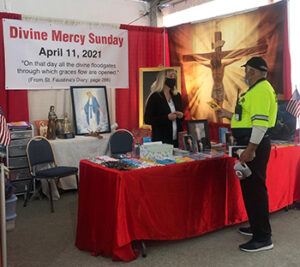 Soon Katalin noticed changes in her desires. She describes being at the Publix checkout one afternoon. Instead of her usual routine of skimming over the gossip magazines, she found herself drawn to a magazine about women of the Bible. She bought it, took it home and started to read through it. On the very last page was an article about St. Faustina. She was deeply moved by it, and was in a sense of awe that "God still speaks with people today," she told Palm Beach Christian Voice.
As the Lord continued to draw her, her niece became ill again and was taken back to the hospital, and it broke Katalin's heart. That same day Katalin purchased St. Faustina's diary and learned about the Chaplet of Divine Mercy. She began to pray it and by that time had also begun attending daily Mass.
The Divine Mercy Chaplet was born from another of St. Faustina's visions. It started back in February of 1931. St. Faustina was in her cell at Our Lady of Mercy in Warsaw. Though many convents rejected her, she eventually found a home at the Warsaw based convent, after working for many months to pay for her habit. It was the evening of this February day, and though used to having many visions and hearing inner direction from the Lord, she was about to have a vision, 'the' vision, that would affect the entire world.
St Fustina wrote, "I saw the Lord Jesus clothed in a white garment one had raised in the gesture of blessing, the other was touching the garment at the breast. From the beneath the garment…there were emanating two large rays, one red, the other pale. In silence I kept my gaze fixed on the Lord; my soul was struck with awe…After a while Jesus said to me, "Paint an image according to the pattern you see, with the signature: Jesus, I trust in You. I desire this image be venerated, first in your chapel, and throughout the world".
The Divine Mercy image has indeed been circulated throughout the world and is especially venerated on the first Sunday after Easter, during the Feast of Divine Mercy, as Jesus directed St. Faustina that it be done. (Diary 44) The first public veneration of the image was in 1935, on the Sunday after Easter. Out of a separate vision, a prayer was given to Sr. Faustina that is known today as the Chaplet of Divine Mercy. It was that same year, 1935.
St. Faustina received a vision of an angel sent by God to chastise a certain city. She began to pray for mercy, but her prayers were powerless. Suddenly she saw the Holy Trinity and felt the power of Jesus' grace within her. At the same time she found herself pleading with God for mercy with words she heard interiorly:
Eternal Father, I offer You the Body and Blood, Soul and Divinity of Your dearly beloved Son, Our Lord Jesus Christ, in atonement for our sins and those of the whole world; for the sake of His sorrowful Passion, have mercy on us. (Diary, 475)
As she continued saying this inspired prayer, the angel became helpless and could not carry out the deserved punishment (see 474). The next day, as she was entering the chapel, she again heard this interior voice, instructing her how to recite the prayer that our Lord later called "The Chaplet." This time, after "have mercy on us" were added the words "and on the whole world". From then on, she recited this form of prayer almost constantly, offering it especially for the dying. (Diary 476).
In further revelations, the Lord made it clear – the Chaplet was not just for her, but for the whole world. He attached extraordinary promises to its recitation. Sr. Faustina was psychologically evaluated during her years as a nun. She was proven to be of sound mind by the doctors.
So this is what I want: that men should pray in every place. 1 Timothy 2:8
"My calling is to proclaim His mercy and mission with the world." ~Katalin Filtrani, Palm Beach Gardens
So, when Katalin began praying the Divine Mercy Chaplet for her dying niece in 2019, she was holding faith in her heart of the power of this prayer. The ill young woman had lapsed in her own faith. Katalin saw her prayers answered as her niece received the Sacraments. And, as she prayed the Chaplet at her bedside during the hour she was passing from this world, Katalin witnessed her niece's troubled and tormented countenance turn to peace and calm right before her eyes.
Whoever conceals their sins does not prosper, but the one who confesses and renounces them finds mercy. Proverbs 28:13
Katalin said, "My calling is to proclaim His mercy and mission with the world." She gives presentations in churches, such as St Clare's in Palm Beach Gardens, Florida and Mary, Mother of the Light in Tequesta, Florida and in organizations such as the Council of Catholic Women. She also prepares a booth at the South Florida Fair and will be there in May of this year sharing the love of God's mercy with all who will hear her.
In the years 1965-67, an investigative process into the life and heroic virtues of St. Faustina was started in Krakow. In the year 1968, the beatification process was initiated in Rome. On April 30, of the year 2000, Sr. Faustina became recognized as a Saint in the Roman Catholic church. St. Faustina's remains rest at the Sanctuary of the Divine Mercy in Krakow-Lagiewniki.
During this past Divine Mercy Sunday, on April 11, 2021, many churches held a Mass in honor of these visions and instructions given to St. Faustina so many decades ago. One parish, led by Father Gary George, at Mary, Mother of Light Maronite Catholic Church and Academy, in Tequesta, Florida offered a retreat with help from dedicated deacons, staff and volunteers.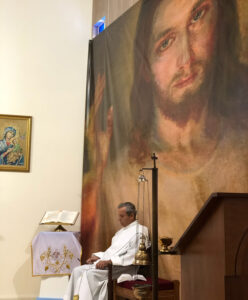 This small, yet jubilantly vibrant mission church was filled to the brim with souls who participated in a sacred time of Divine Liturgy assisted by subdeacon Elias Azzi. Praying the Divine Mercy Chaplet, the exposition of the Blessed Sacrament and a special guest speaker, Father Richard from St. Jude in Boca Raton, were also part of the healing event.
Father Gary's spirit was as contagious, joy filled and full of God's mercy as always, as He lead the congregation through a blessed time to remember. The retreat concluded with Jesus Lopez playing deeply anointed worship music as congregants lingered at the altar to pray and look upon a relic of St. Faustina, brought by Thaddeus Horbowy, retired Chaplain of the U.S. Department of Justice.
He has shown you, O mortal, what is good. And what does the LORD require of you? To act justly and to love mercy and to walk humbly with your God. Micah 6:8
For information about Mass and the many spiritual programs at Mary, Mother of Light Maronite Church and Academy in Tequesta, Florida, please visit: marymotherofthelight.com.